Earl Weaver, the fiery manager of the Baltimore Orioles has died. The infamous "Duke of Earl" was 82. He took the Orioles to the World Series four times while he was there. He was known for being one of the game's most colorful characters. He elevated arguing with the umpires to an art form. He was ejected from 91 games, including both games of a doubleheader once. He was three-time manager of the year, but more known for his curing and temper tantrums on the field. As a Baseball Hall Of Famer, he was one of the few members of the "1000 wins club." I grew up watching Weaver lead my beloved Orioles into the post season year after year. I remember a reporter asking him how hard it was to manage the Orioles- he said, "All you gotta be able to do is spell Robinson- a reference to his two Hall Of Famers Brooks Robinson and Frank Robinson. The summer days were long and hot and Memorial Stadium was only a few blocks from my parent's house.
Some of Earl's best moments are R-Rated and can't be shown on this family website. He was feared by umpires and players alike. If you don't mind listening to him cuss a blue streak, and for those who has sensitive eardrums (you might want to opt out), his expletive-laced commentaries were classic moments of the game. And consider this, this is the LEAST OFFENSIVE clip I could find. Whatever you do, don't listen to a royally pissed off Earl Weaver do his infamous "Manager's Corner" because it still might be shooting off sparks out near Jupiter somewhere. You will find it offensive, no question.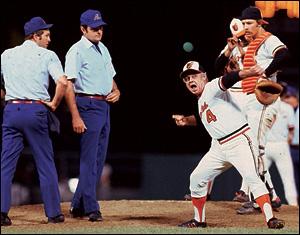 Earl used to smoke in the dugout. Don Stanhouse, Orioles reliever, was known as Earl's "full pack man" because when he was on the mound, Earl smoked a whole pack of cigarettes. Earl actually said, "Every time I fail to smoke a cigarette between innings, the opposition will score." On his Tombstone Earl requested "The Sorest Loser Who Ever Lived."
Good-bye Earl, we will miss you. They don't make 'em like you anymore, my man.
Warning- foul language used in this baseball clip! Not suitable for children: