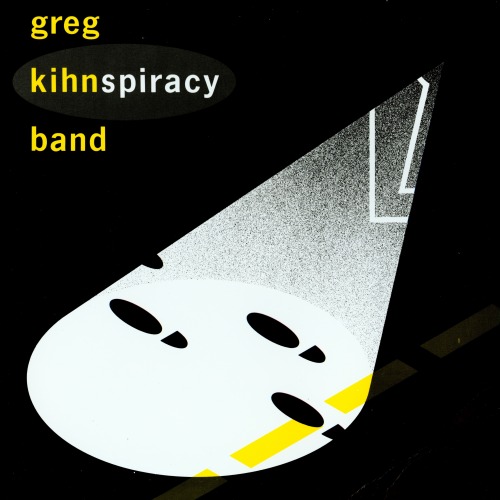 For the first time in decades you can now purchase the entire Kihnspiracy album.  This was our 8th album and it yielded our first number-one worldwide hit Jeopardy in 1983.  The RocKihnRoll album came out two years before and featured the Break Up Song (our first US top ten hit) in 1981.  The Break-up song and Jeopardy put the Greg Kihn Band and Beserkley Records on the world wide map.  It's still one of my all-time favorite albums too. 
The return of Kihnspiracy marks a major turning point in the reissue of the entire GKB catalogue.  But, this sounds as good today as it did in 1983 when it first came out.  In fact it sounds even better than it did because Joel Turtle and I digitally remastered the entire catalogue before we reissued it.  
Greg Douglass had just joined the band at this point and the first song he played on was Jeopardy.  Talk about hitting the bulls eye first time out!  Greg nailed it in two takes.
I knew Jeopardy was a hit the day Steve and I wrote it at my house in Rockridge, Oakland.  Steve had just bought one of the first little plastic Casio keyboards to come out.  It had a drum machine in it.  Steve set the beat and said listen to this!  He played the chords to Jeopardy.  I swear, the words just came to me spontaneously.  We wrote the song in 15 minutes and we knew it was a hit from the first note.  I wish it was always that easy.
We cut Kihnspiracy at Fantasy Studios in Berkley, CA.  Journey was down the hall in the big Studio D while we were in the smaller, older, cheaper Studio B.  I remember passing those guys in the hall and playing pinball together during breaks.  One day they wheeled a cart with 20 or so boxes of multi track tape.  I asked Neal Schon what it was.  "That's the new album."  I was shocked!  We had three boxes of tape total for Kihnspiracy.  Maybe it was because we recorded fast and never did more than a few takes of any one song.  That kept everything sounding fresh.  We learned that the more you worked on something, the less spontaneous it sounded.    
The songwriting in the band had reached its commercial peak.  We came up with a batch of great tunes like Fascination, Tear That City Down, and Talkin' To Myself.  The year was 1983 and things were really heating up for the band.  We went on the road with Journey and played stadiums and arenas all summer long.  During that tour Jeopardy hit #1.  We were at the gift shop at Custer's Last Stand at the Little Big Horn.  Our road manager called LA and spoke to the record company and we found out we just hit #1!  By the way, it's a great gift shop and we bought lots of stuff there.  
So please enjoy this reissue of the classic GKB album Kihnspiracy.
It's been a long time comin'.