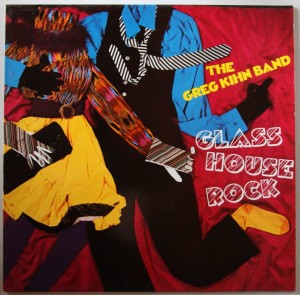 I am proud to announce the historic re-release of my 5th album GLASS HOUSE ROCK. It was first released in 1980, a time of unbridled avarice and visions of glory. This album shows the band psychologically trying (in vain) to break away from the goofy small-town confines of Beserkley Records. At this point, we all thought we'd had enough of those puns on Kihn album titles. We were determined to be taken seriously, so we quit the cutesy album titles and tried to look more serious on the cover. We had just returned from extensive touring with The Cars, playing huge venues like Madison Square Garden and the Spectrum, and we saw how cool the guys in the Cars were. They never smiled much or said anything, but I did become acquainted with Ric Ocasek, though, and he had Baltimore roots. I had known drummer David Robinson from Beserkley label mates The Modern Lovers. The tour was fun.
So, we came home and went back into the studio with one main goal- to be cool.
GLASS HOUSE ROCK was different for several reasons. I had branched out with my songwriting, the band was becoming more involved, and we were beginning to get consistent FM airplay.
Look at some of the compositions we came up with at the time:
Castaway– grew out of a riff we did at rehearsal- similar to Love's "7 & Seven Is." We had a devil of a time trying to come up with a lead guitar part and Dave wound up straining his fingers to keep up with the rest of us.
Desire Me– which worked great live but we recorded it too slow in the studio. That's me trying to sound like the Cars. I always loved this song and had high hopes for it, but it never got re-recorded.
Anna Belle Lee– I grew up in Baltimore just a few miles from Edgar Allen Poe's grave. I loved Poe. Back in 1995 when I was submitting the manuscript of my first novel HORROR SHOW to TOR BOOKS, I went down and put it on Poe's grave for about half an hour to vibe it up. It worked because not only did they publish it, HORROR SHOW was nominated for the Bram Stoker Award for best first novel. Look up the original poem of Anna Belle Lee. It's beautiful.
Things To Come– Inspired by the great 1938 English Sci-Fi movie of the same name written by H.G. Wells. This developed from a boogie groove that we often did at sound checks. Once I came up with the chorus and Larry Lynch added his line, the song was born. This song kicked ass live but it never really translated into the tour de force it was on stage.
Small Change– This song I wrote on tour in Europe and I always thought it had a European sound. The New Wave movement had hit and all the bands we were playing with that year had on skinny ties. I always liked this song, it reminded me of "Sorry" from the NEXT OF KIHN album.
The Only Dance There Is– Inspired by a book by Allan Watts, the Zen guy. This song absolutely killed live but for some reason we could never capture the magic on tape. If there was ever song I'd like to do over- this would be it. It depends on distorted guitars and snarl, and we just never got it right. Other people love it and say its perfect. Hat do I know?
The Man Who Shot Liberty Valance– Sung by Larry Lynch, this is only one of two rare Burt Bachrach songs we ever did. Can you name the other? (answer at the end!) This one took balls to do and I still love it to this day. It's also one of the best movies of all time. By the way- the man who actually shot Liberty Valance was not Jimmy Stewart, but John Wayne.
Serenade Her– Was easy to sing and I loved the groove. This is one of the songs that wrote itself one day. I always thought it would have been a hit single, of course I was the only one. The band and management voted me down. Who was right?
Night After Night was written and sung by bass player Steve Wright. Steve would go on to write some of our biggest hits (Jeopardy, Breakup Song) with me. We have become lifelong friends and songwriting partners since.
For Your Love– Was recorded at a sound check for a live album at the Keystone Berkeley which never came out. It was the same sound check we recorded "Road Runner." Too bad the gig wasn't as good as the sound check! The applause came from the same song later that night.