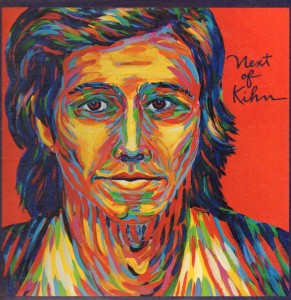 GREG KIHN is proud to announce the release of his THIRD BESERKLEY ALBUM (originally issued on vinyl in 1978) the legendary NEXT OF KIHN. Greg is currently re-releasing his entire Beserkley catalogue in chronological order with original artwork and liner notes and this is the third in the series. NEXT OF KIHN was recorded at CBS Coast Recorders on Folsom Street, San Francisco (it would later become the Automatt,) with Glen Kolodkin at the controls, Matt Kaufman producing, and Gary Phillips co-producing. It features a young GKB in a creative frenzy.
NEXT OF KIHN contained one of Greg's early hits, the jazzy, acoustic finger-picked "REMEMBER" which featured drummer Larry Lynch playing with brushes on the drums and bassist Steve Wright playing fretless bass. Due to its complex arrangement, "REMEMBER" had to be recorded live in one take.
1978 was the dawn of the Punk era and many of the songs on NEXT OF KIHN reflect sensibilities of a hardworking rock band on tour during the late 70's. "Chinatown" featured real Chinese firecrackers (recorded after hours) and "Cold Hard Cash" featured about five dollars in loose change tossed onto a metal tray.
The unforgettable album cover painting of Greg was done by artist Barbara Mendes. The back cover of NEXT OF KIHN was shot at COSMO'S FACTORY, Doug Clifford's private Creedence Clearwater Revival rehearsal space and recording studio.