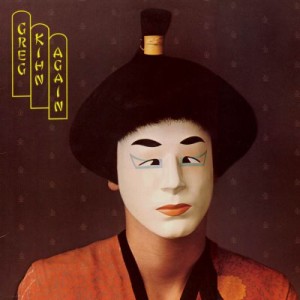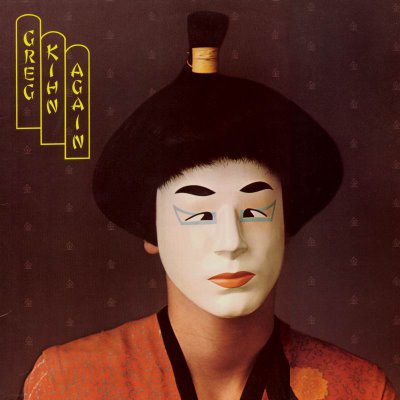 Today is the re-release of my second album GREG KIHN AGAIN– the famous Japanese Mask album recorded and released in 1977. I have a hell of a story to tell about the making of that cover, but it will have to wait for next time. (People still ask me what the hell we were thinking!)
Remember when I told you that we would be releasing the entire GREG KIHN BAND Beserkley catalogue the first Tuesday of the month until they were all back in print? Well, guess what? Yep, the second installment just came out! GREG KIHN AGAIN is notable for several reasons. First of all, it was the first album recorded with the lineup that would define the GREG KIHN BAND in its early days- Dave Carpender, Steve Wright, Larry Lynch, and me. It was a relief to finally have our very own full-time guitarist Dave Carpender- who was wonderful guitarist and really gave the band some fire. Up to that time, ROBBIE DUNBAR from EARTHQUAKE had been filling-in but the arrangement was wearing thin since both bands were on the rise and gigging consistently. With Dave in the band, we finally had our own sound and direction. Also, it was a transitional phase for me as I was changing my songwriting style from singer-songwriter type material (like the first album) to rock and roll. I would never look back.
It was liberating to be writing pure rock- and that second album has some interesting songs on it including MADISON AVENUE MAN, HURT SO BAD, ISLAND, and REAL BIG MAN. It also featured my first Springsteen cover- FOR YOU, which became an FM favorite and caught the ear of BRUCE SPRINGSTEEN who liked my arrangement so much he started performing it live with my ending. It would be the first of several Springtseen covers for the GKB. Ironically it was the last song ROBBIE DUNBAR ever recorded with us right before Dave joined the band. If I remember correctly, Dave gave it a try but couldn't capture the raw first-take vibe of Robbie's solo. Speaking of first takes- that song is nothing but first takes- first take backing track, first take vocal, first take harmonica solo, first take everything. I had the flu that day and I thought I sounded horrible. I remember producer Mathew Kaufman telling me, "don't worry, it's just a work vocal, we'll replace it later." Famous last words. Also, when I cut the harmonica solo I was told it was just a test run and the real solo was next, but it never happened that way. I was just making noise on the harmonica, not really playing a part, and everybody loved it and insisted it go on the album just like that.
I am so glad that this historic album is once again available because it captures a magic time in the development of the GKB. We became a strong, hard-working, original rock and roll band with our own identity and sound. It was during this stage that we started playing a lot of gigs and really growing as a band.
Next time- making the cover with Ron Nagle.