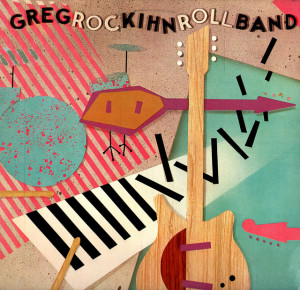 I am pleased to announce the re-release of ROCKIHNROLL. My favorite GKB album of all time is RocKihnroll! This is the album that put the GKB on the map. It contained some of my favorite songs to perform live- like Valerie, Can't Stop Hurtin' Myself, Shelia, Womankind, and my all time #1 favorite- THE BREAKUP SONG. It was also at this time that Gary Phillips joined the band full time (he'd been in Earthquake) and our sound got much more rockin'. I have such fond memories of recording this album at Fantasy Studios in Berkeley. Musically and songwriting-wise I was hitting my peak and the band was the tightest its ever been. We were touring constantly and playing live almost every night so the band were like well-oiled machine at this point. THE BREAKUP SONG became our first big hit and suddenly we were making some Money. I bought a Ferrari-red Alfa Romeo GTV6 Balocco and that thing was fast! I tooled around Berkley like a maniac, getting tickets and acting like a fool. What a blast!
There is a joy and happiness that you can actually hear in the grooves of this album. I might also say that the modern art album cover became our trademark for a while. I was using both the Rickenbacker AND The Vox Phantom 12 strings! Plus I started using the Telecaster a lot more. I was out of control! Three guitars!
There was a feeling in the band at this time that we had finally broken through to the next level, and that this was just the beginning.
Parts of RocKihnroll were recorded in the old Studio C in the corner of the building. It was the same room that Creedence recorded all their hits back in the day. In fact, it was called "The Room That Creedence Built" because they had requested a studio just for them that they could come and go by the side door at all hours. That room had a great vibe! Think about it, the BREAKUP SONG was recorded in the same room as PROUD MARY.