My son Ry was born backstage, not literally of course, but he grew up around the band, at gigs and in the studio. When he got his first guitar for Christmas when he was around twelve or so, he was not thrilled. He wanted an electric car racing set that could climb walls. Instead he got a three-quarter size Fender Mustang electric six-string, red as a new corvette. He didn't take to it right away. But, within six months he was wanging away at it, having already mastered the three chords I knew.

He was a natural, with a hundred times more talent than his old man. He took lessons from Joe Satriani. He went to guitar school. He absorbed everything. He auditioned to become a student at the prestigious Berklee School of Music in Boston and was accepted. Ry switched to California Institute of the Arts in Southern California and graduated three years later with a degree in Jazz Guitar.

Damn, was I proud.

He played in a succession of bands, then took over for Jimmy Lyon in the Greg Kihn Band. Ry had some pretty big shoes to fill. But the kid had big feet and before you know it, he'd become a force within the group. Ry has many fans now, and rightly so. He's extremely good at what he does.

A professionally trained guitar teacher, Ry gives guitar lessons when the time allows. I wish he'd give me one; I'm still playing the same three chords from when Ry was twelve. That's OK, though. There can only be one Eric Clapton in the family.

BIG FUN was formed out of the need for musicians to play on a regular basis. They've been working constantly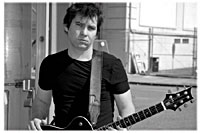 and have become one of the top bay area cover bands. Ry shares front man duties with the dynamic Cynthia Acevedo, who also has her own solo project going, with Ry on lead guitar there too. I tell ya, if there's a solo to played or a riff to be scratched, Ry's the man. Here's the amazing thing: he never breaks a sweat. He makes it look easy, which it isn't, and just has fun. Like his dad, Ry is a pretty laid back guy.

Lately I've been writing songs with Ry. It started as an experiment, but quickly became a project. The first two songs we wrote together were KISS IT and SCIENCE FICTION. I realized right away that we were onto something good. Ry's got a special sense of riffage. He comes up with great guitar riffs. I furnish the lyrics and he bangs out the music. It's as easy as drinking guava nectar. Ry's solo project is called K2. K2 represents the second generation of Kihn's to make it in the music business. We are currently in the studio cutting songs with no idea when it will be finished or what to do with it then. That's rock and roll.

I expect Ry's career to surpass my own on the Billboard charts. The future is wide open. Then he can support me.