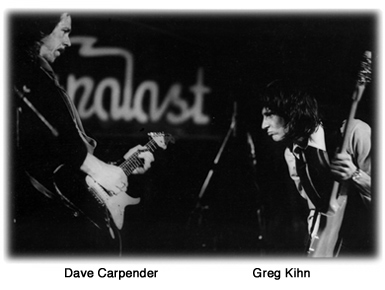 October 5, 2007 - Friday

DAVE CARPENDER--Death Of A Guitarist

by GREG KIHN

Category: Life
I got the news that Dave Carpender had died of heart failure. Dave was the first full-time lead guitarist in the Greg Kihn Band. Dave joined the band in 1976 and played with us until 1983. We were like brothers. We came up together through the rock and roll wars, from the days when we had absolutely nothing, to when we were stars. I'm going to miss him. Do you realize that of the five guys who cut The Breakup Song back in 1981, only two are still standing? That staggers me. We lost Gary Phillips to cancer at the beginning of 2007, and Steve Wright was incapacitated by a stroke several years earlier. It's down to Larry Lynch and me. Any future band reunions are going to be pretty sparse. And so today, with a heavy heart I sit before the keyboard to write what I can about a guy I loved and a time I'll never forget.

The first things that come to mind are memories of the band. Man, I got a ton of them. We must have played over a thousand gigs together, toured the world, cut seven albums, went through drugs, booze, and divorces, and that was just while Dave was in the band. I've had many guitarists since then. It's a blur. Rock and roll does that to you. You lose track of stuff. Like your brain.
Now that I am off that treadmill, I marvel at what we were able to do. I could never do that now. Of course, that was twenty-five years ago and we were bullet-proof.

My wife recently asked me if I'd been to Rome and I said yes, but I never saw anything outside a hotel room, a TV studio, and a radio station. It's that way for every major city you can name. I remember the gigs though. Oh, yeah, I remember the gigs like a ballplayer remembers every game.

Gigs are everything when you're in a band. A band's got to have a gig. It's their reason for being. I don't think we ever played a bad one. There have been dismal nights but I don't ever remember the band letting down. Not even once. All the nights that we played drunk or stoned or sick or tired didn't matter. The band always cooked. The band. Yeah, that's what it's all about.

It's hard to tell an outsider what its really like to be in a great band. Things change after the first thousand gigs. You get tighter than you ever thought possible. You get to know guys a little more than you'd want to after thirty years of airplanes, vans, tour busses, and dressing rooms. Bands typically outlast marriages, managers, and record companies. They have to; it's the band, man. Gotta stick together.

Each of us bore the scars: taxes, lawyers, divorce, bankruptcy, etc. Good times. Bad times. But in the end there was always the band.
When does a bunch of guys who play together become a band? I don't know. Maybe it's that first gig. Or maybe the first thousand gigs. Maybe it comes when you don't have to speak to be understood. Maybe it comes when it's all you have left.

I remember triumphant gigs. I also remember those dark nights of the soul in dingy motel rooms somewhere in the middle of nowhere facing demons of my own creation. Endless flights on nameless airlines to places I never knew. Where people we'd never see again welcomed us like brothers. I can only imagine what it must have been like for the pioneers. At least we had monitors.

But, I wouldn't trade a minute of it. It was all kismet. We had a great ride. Now, the loss of my brothers in arms weighs heavy. The day before Dave died, we drove up to Sacramento to see him. It was drummer Larry Lynch, and Beserkley Records founding partner and GKB manager Joel Turtle, and me. It's a good thing that we did, because as it turned out there would be no tomorrow for Dave. Dave opened his eyes and looked at me, and I caught the faintest hint of a smile through the respirator. He tried to speak, but couldn't. Every breath was labored. We thought he was going to die right there in front of us. We just stood and stared, choking back tears and trying to act normal. I knew those guys were thinking the same things, reliving the same memories. It just broke my heart.

The last thing I said to him was, "Dave, old buddy, I'll see you in the next world. We'll have a band together and we'll jam. You'll be older than me, of course, so keep an eye out."

From the look in Dave's eye I knew he understood. God, I wish I could describe that look, but I don't have the words. It was a long walk back to the elevator, let me tell you. None of us spoke for a while. There was really nothing to say.

Good-bye, Dave. Nice solo.