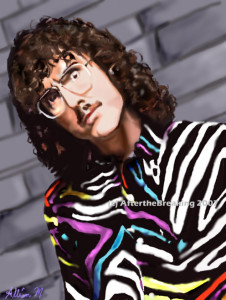 First of all, I'm a big Weird Al fan and I feel qualified to speak about Weird Al because I am one of the select group of artists who have been parodied by him. I've been at ground zero in the Land of Yankovic!
Over the years, Weird Al has grown and prospered, not only musically where he manages to stay extremely current, but also in the world of Marketing where he's a genius. He just released his 14th album "Mandatory Fun".  His newest video "Tacky" is a parody of Pharrell Williams and it is one of eight videos he just released. That's right, Eight!  A media blitz!  One video a day for eight straight days. Crazy! The videos were released on big time entertainment networks like Yahoo.  Weird Al has gone mainstream!  Go to weirdal.com to see all 8 videos. Out of his new videos, I think "Tacky" is my favorite. You can tell they had a lot of fun making that video.
Which of Weird Al's new music videos is your favorite?
Did I also tell you Al's one of the nicest guys you'll ever meet? Everyone loves him for good reason, he's real, not a blown-up version of the stuff he parodies. I spent a pleasant 2 days on the set of "I Lost On Jeopardy" and had a ball.  I actually got to meet the legendary announcer Don Pardo!  "And now, Al, let me tell what you DIDN'T WIN!"  He was really cool. What a kick!
It all started with a phone call back in 1983 when "Jeopardy" was riding high in the charts and I was touring the biggest venues in the country with Journey.  He had a parody in mind called "I Lost On Jeopardy." I'd met Weird Al at a gig somewhere and I knew he was a funny and creative guy.  We knew a lot of the same comedians.  He had spent a lot of time working with Dr. Demento, one of my favorite radio personalities.  He was just coming off his first major parody hit "My Bologna" and preparing to cut the video for "Eat It!"  I was very flattered that he chose me to parody; obviously I was famous enough outside the Bay Area to make fun of and that made me extremely happy.  It was truly a privilege.
Weird Al called me up and sang the first draft of "I Lost On Jeopardy" over the phone. If you do a parody you do NOT have to get permission first but Al will not do it without the Artist's consent. I thought it was brilliant and I was honored to be made fun of. Naturally I gave my permission for him to go ahead and record it. I asked Weird Al if anyone had ever turned him down and he said Prince had turned him down when he asked permission to do a funny version of Purple Rain. Prince! (The man must take himself very seriously.) Al said he tried and tried but he couldn't get Prince to come to the phone. Too bad, it was probably hilarious. We'll never know.
For my cameo appearance in his "I Lost On Jeopardy" video, they rented a vintage sports car to approximate the one I drove in the original "Jeopardy" video. The girl in the car with me would shortly become a major rock star in an all-girls LA band (which I can't tell you) but we had a fun time driving around the block for the shoot. On the last take, I just kept going and drove off into the sunset. It took them hours to find us at my suite at the Sunset Marquis Hotel. To this day I have a reputation for being disruptive at video shoots.
Weird Al is a genius and a genuinely funny guy with absolutely no pretensions. What you see is what you get. And what you get is a constantly changing landscape of things that are funny to him (and to us.)
God bless you, Weird Al! Keep blazing the way for the rest of us.