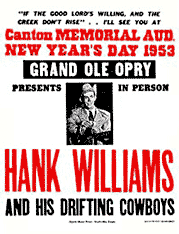 Back in the 80's when I was constantly on tour, one of my heroes was Hank Williams Sr. Hank was the original and still the best. The guy was the world's first rock star. He killed himself with liquor and drugs at the age of 29 on his way to a gig on New Year's Day 1953 in Canton Ohio. You know why I know that date so well? Because back in 1978 I bought the poster for that gig. I paid a couple of hundred bucks for it back then. Later I found out it was a counterfeit. It broke my heart. "If the Good Lord's willin' and the creek don't rise… I'll see you at Canton Memorial Auditorium…" I still have that poster. Anyway, Hank was Hendrix, Morrison, Joplin, Jones, Jackson, and Elvis all rolled up into one. The only difference was Hank did it first. Long before rehab was chic, Hank spent nights shaking and puking his guts out in a cold jail cell. He died in the back of Cadillac Limo on his way to a gig on New Years' Day 1953. Man, what a way to go. No doubt about it, Hank was the king of them all. He was one of the greatest songwriters of all time. The details of his life were like something from a Tennessee Williams play. He was born dirt poor and sickly, alcoholic by sixteen, skyrocketed to success by twenty, a brutal train wreck of marriage, addicted to Morphine because of a degenerative back condition, the list goes on and on. You think your marriage was tough? Hank got married in a freakin' gas station! Spent his honeymoon sleeping by the side of the road.
OK, you're probably asking yourself, "Why is he telling me all this? Come on, Greg, get to the good parts." Believe it or not there is a story attached.
I was on an endless tour in 1983, when we rolled up to Tulsa, Oklahoma to play a legendary road house called Cain's Ballroom. I knew Cain's was once owned by the great Bob Wills (and his Texas Playboys) the King of Western Swing, and I knew he did a weekly syndicated radio broadcast out of there. I knew Hank had played there many times. The place was decorated with huge paintings of Country Music Hall of Fame stars who played there in 40's and 50's. These suckers were huge, maybe twenty by fifty feet, painted like carnival signs, they had a Norman Rockwell quality. I tried to get the promoter to pay me by giving me a painting but he wouldn't do it. You guessed it, it was a painting of Hank Williams.
But that's not the story.
The story happened after the gig while we were having a few cold ones in the main dressing room. I was talking to my old buddy Dwight Twilly (another Oklahoman) about the days when Hank Williams played Cain's. This old white haired janitor at Cain's had been there since he was a kid. He told us how Hank would come off stage pale as a ghost, hang on the bathroom doorknob for dear life, throw up, have some "doctor" shoot him up and clean himself up for the encore. He'd actually seen it! Several times by his account.
That's when I had to stop the conversation.
"Wait a minute, you're saying that the great Hank Williams barfed in that very bathroom?"
"Yes."
"And hung on that very doorknob"
"Yes."
"And that his actual hand came into contact with that doorknob?"
"Yes."
"Do you have a screw driver?"
"No."
But one of my roadies did. To make a long story short I stole the back stage bathroom doorknob from Cain's. I took a key and scratched the words "Hank Williams Sacred Doorknob- Cain's Ballroom, 1983" into the side. Ask any of the surviving GKB members. They'll tell you. It was the funkiest doorknob you ever saw: completely rusted brown, crusted over with god knows what. It was the kind of doorknob you would think twice about grasping almost anywhere in the world, yet I carefully removed it and carried it back to California. I mounted it in my recording studio in my house in Larkspur in Marin. (This was during my rock star days, of course.) All my buddies would come from far and wide to gaze upon the Hank Williams doorknob.
Here comes the tragic part. During my second divorce my ex went back to the house to clean it out and she threw it away. OK, she didn't know it was the sacred Hank Williams doorknob. The only way she could have known was if she read the etched words on the side… or if she actually listened to my stoned ramblings late at night about some magic hillbilly doorknob. It doesn't matter, the doorknob is gone forever. No more shall the spirit of Hank haunt that doorknob or my old recording studio.
So, if you see a rusty funky old doorknob at a garage sale, look for the words etched into the side.