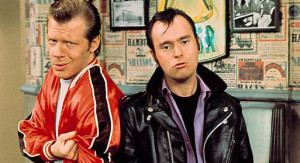 My schedule has changed radically in the past few days.  I feel like I moved to Australia.  I'm upside down. For the first time in 16 years I don't have to wake up at 4:00am!  It's as liberating as it is scary.  I really don't know what to expect, but my body is changing.
Last night was the first night I tossed and turned.  Did you ever just lay there and your mind is working overtime and you're thinking too much to go to sleep?  I hate that.  Last night was one of those.  It happens to everybody I guess.  I actually got up in the middle of the night and watched TV!  Holy cow!  You know I'm outa whack if I do that!  Let me tell you, 3:00am TV is a wild and whacky wasteland of weirdness.  I actually watched a LaVerne and Shirley marathon.  I'm not kidding.  Lenny and Squiggy were taking their driving tests so they could become truck drivers.  I laughed.  I cried.  I was spellbound.  The character development was superb.  The writing was brilliant.  It eventually put me to sleep.  Maybe I dreamed the whole  thing.
I used to have one eye on the clock, ready to jump out of bed at 4:00am even if I finally fell asleep at 3:39, primed for the three S's and ready to jump in the car and drive over the Bay Bridge to San Francisco and do the show.  But since I don't have to do that anymore my entire biological clock is thrown off.  I am befuddled by all this time that I suddenly have on my hands.  This morning, after a fitful sleep, I fired up the computer and dove into the editing of RUBBER SOUL but I just didn't have my heart in it today.  Maybe tomorrow.  I think it's going to take a little while to adjust.  My body has been geared to waking up at 4:00am for last 16 years.  Stopping is weird.  I suspect a transitional period will take place, during which I'll go around the house with a microphone trying to interview the cats and playing Led Zep and making announcements on the backyard sound system.