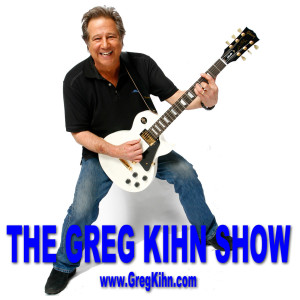 OK, I've waited long enough. It's time for me to get behind the microphone again and it's happening everyday. I spent 17 years working for "The Man" in the form of big corporations like Clear Channel and Entercom. Don't get me wrong, I loved working for the big boys, but the time has come for me to break out and work for myself. And that's what I'm doing. I'm completely independent. I'm my own boss. It's great not to have anyone looking over my shoulder and telling me I talk too much or I don't talk enough. In my current situation I can talk all I want. I have complete control. I can do all the things I loved doing before, only now I don't have to worry about the clock. Stuff happens. It's organic. There's no script.
What does that mean?
Well, I broke down all the elements to the new Greg Kihn Show so I can look at it as the perfect sandwich. If you tune in what will you hear? Well, for one thing you'll hear some excellent music because I still play music and I love classic rock. You'll also hear all the things that you loved about the Greg Kihn Show, only more: road stories, studio stories, behind the scenes glimpses of the rock and roll lifestyle, great interviews, theater of the mind, live music, music news, history, lively conversation, weird stuff, rare live recordings, sports, freaky fairy tales, tech updates, fan mail, the College of rock & roll knowledge, readings from my books, an episodic politically-incorrect "talking blues" that reflects what's going on in the news without taking sides, and a whole bunch of stuff that nobody else is doing.
What did you expect from me? The same old poop? Hell no! We're taking audio entertainment to a whole new level. In a world of crap, we will make art.
Are you looking for something completely fresh and original? Then I hope you get a chance to look us up and try the show for a day or two. I guarantee you'll love it. It's like nothing else you've heard before. For a completely unique experience, try the Greg Kihn Show, on Radio KIHN, a division of Standard American Broadcasting.
Listen and Subscribe to THE GREG KIHN SHOW on Apple iTunes.