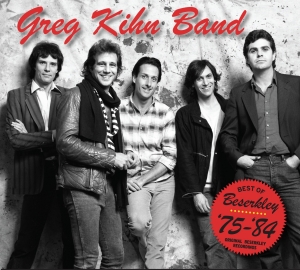 The Greg Kihn Band came together, slowly, over the course of the late seventies: led by the singer-guitarist Kihn and the bassist Steve Wright, the band started off in roots rock, flirted with New Wave, and then flowered fully just as MTV was coming to dominate music. It specialized in unflashy rock and roll, played sharply, sung passionately, with a high degree of intelligence and subtlety: there weren't always big hits, but there were consistent pleasures. The group's two biggest-charting singles, "The Breakup Song (They Don't Write 'Em)" and "Jeopardy," became radio and TV staples; the latter even earned the ultimate honor of a "Weird Al" Yankovic cover. The new compilation "Best of Beserkeley: '75-'84" includes the hits, of course, but digs deeper into the string of punnily titled records from the period—especially "Rockihnroll," from 1981; "Kihntinued," from 1982"; and "Kihnspiracy," from 1983. Of special note is the Springsteen connection: Kihn covered "For You" in 1977, which Springsteen liked, and he rewarded Kihn by donating "Rendezvous" to the band.
Available now Greg Kihn's Brand New Novel "Painted Black" about guitarist Brian Jones co-founder of The Rolling Stones!

Click here for more info.