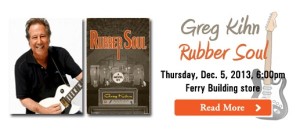 I just had a successful book signing at Booksmart in Newpark Mall, Newark, CA.  I want to thank all the people that showed up.  Of course I saw lots of familiar faces, you guys know who you are so I won't mention any names, but if you ever show up at any Greg Kihn Band gig, or even a solo book signing, you'll see them there!
I have another book signing this Thursday at Book Passage in San Francisco at 1 Ferry Building, right on the waterfront.  It's at 6:00pm so it should be prime shopping time.  This is the last and final pre-Christmas book signing for my new Beatles novel RUBBER SOUL.  So, if you're looking for that perfect stocking stuffer for your significant other, this is your chance to get a personalized autograph with the message of your choice.  RUBBER SOUL is a completely unique murder mystery with the Beatles as the main characters.  It's as much fun to read as it was to write.  The reviews have been spectacular.  Check out the Amazon page and read some of the customer comments. 
So, if you're looking for a great read and you want to go places you've never been, try RUBBER SOUL.
I will be signing copies at BOOK PASSAGE (a really great bookstore) 6:00pm Thursday evening, located at the 1 Ferry Building, San Francisco.  Hey, wait a minute.  Isn't that same waterfront Ferry Building that was destroyed by the giant octopus in Ray Harryhausen's 1950's classic monster movie It Came From Beneath the Sea?  Yes!  I remember he crushes the clock tower.
I can pretty much guarantee that here will be no giant octopuses attacking the waterfront on Thursday night.
But you should be there.  You never know what songs I'll be whipping out spontaneously.  Also, if you've got some old album covers or other GKB memorabilia I will glad to sign it all.  It's a great chance to hook up and reconnect.  I'd love to see you there.
So, join me for my last public appearance for a while at Book Passage this Thursday at 6:00pm.  I'll keep an eye out for giant octopuses.  Or is it Octopi?