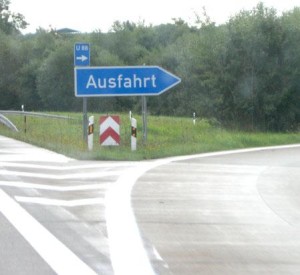 The Ausfahrt Story
The year was 1983 and the Greg Kihn Band was lost in Germany on the infamous Autobahn in a rented VW Microbus. We were on our way to an Open Air Rock Festival and we thought we should have seen signs for it by now. Or traffic. Or something. The Autobahn literally had no speed limit and it was easy to let the miles slip away, plus the speedometer was in Kilometers so we had no idea how fast we were traveling.
Our Road Manager Steve Levine was at the wheel. I was navigator and Steve Wright was acting as wingman. Larry Lynch and Greg Douglass were watching for signs and Gary Phillips was asleep in the back. We were hopelessly, desperately lost in a foreign country in a van reeking of hash and beer. We had thoughtfully allowed ourselves extra time for getting lost; we just didn't think it would happen several times. In a row. Time was rapidly becoming a factor.
"Check the map again," Steve said.
"I think we took a bad turn at Verbandsgemeindeverwaltung," I replied smugly.
"I dare you to say that again."
At that moment we passed an exit on the highway marked "Ausfahrt."
I had been a Boy Scout in my youth and had actually earned a Merit Badge for Map Reading. I exhibited the confidence and swagger of someone who is truly lost and doesn't even realize it. The sun was beginning to set.
"I will simply find Ausfahrt on the map and calculate our position," I said. "Then I figure out where we are."
Brimming with confidence I began studying the map, but after ten minutes I gave up.
"There is no Ausfahrt on the map."
Greg Douglass was having none of it.
"What did you say? No owl's fart on the cap? Christ I hope not!"
"Not Owl's fart, Ausfahrt! It's not on the map."
"Maybe it's too small."
"That's ridiculous. Look, there's another exit for it coming up!"
It was true. Another Ausfahrt exit loomed ahead!
I said, "This has got to be a pretty big city. I'm surprised I can't find it on the map."
Over the next fifteen miles we passed at least six more exits for Ausfahrt!
"This place has got to be the size of L.A.! Why isn't it on the map?"
More Ausfahrt exits rolled by. "Let's take the next exit. We may not find out where we are but maybe we can find out who we are and that'll help a little."
We took the next exit and wound up on the main drag of a picturesque little German village. We found a bar and decided to take a break. We had a few beers and some outrageous paper-thin sliced rare roast beef sandwiches with hot mustard.
I considered the map with renewed vigor. The bartender (who only spoke a few words of English) inquired what I was looking for. At least I think that's what he said.
"Ausfahrt?" I replied.
He pointed to the door.
Perplexed, I stepped out into the cool night air of Ausfahrt. I wondered if something horrible happened there in WWII to wipe Ausfahrt off the map. I couldn't imagine what it must have been to banish the town's name from every map in the world. Maybe it was a death camp or a munitions factory. Maybe the German people had decided to keep Ausfahrt under wraps. What other dark secrets was Ausfahrt keeping?
I walked slowly back into the bar. I happened to look up at the sign above the door. That's when it hit me. Of course! How could I be such a dunce? The answer was right there in my face the whole time. Ausfahrt was the German word for exit! It wasn't a place at all! It was a freakin' off ramp! The revelation made me break out in a cold sweat.
The Ausfahrt mystery was solved. The band cheered. Of course, we were still lost, but at least we knew we were lost, which is better than not knowing. And we were no longer in a place that didn't exist.
That night, as we ran onto the stage in front of a rowdy German audience, Gary (who has slept through the whole thing) shouted, "Hello Ausfahrt!"