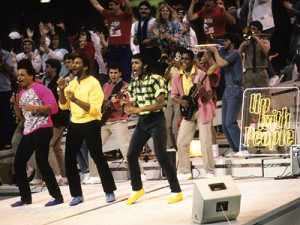 Does anybody remember the old Super Bowls when Marching Bands ruled the field and actual musical superstars hadn't decided what to do with the huge audience yet? From 1966 to 1988 it was nothing but marching bands. There was a time when Super Bowl halftime shows were unwatchable. I remember a coach at one of the early Super Bowls running out on the field to stop the marching band from chewing up the field anymore on a muddy day. He actually got them to stop! It wasn't until years later that people like Tom Petty, The Who, The Rolling Stones, Bruce Springsteen, Prince, Michael Jackson, and Madonna, figured out how to reach out and touch someone.
Before that it was a hodge-podge of bad entertainment- do you remember Elvis Presto the Elvis Impersonator? How about Up With People? Was the painful enough? Or maybe they had to bring in Al Hirt, the Dixieland Trumpet player who had a hit with "Java" back in the early Paleozoic era. How about Chubby Checker and the Rockettes? Or It's A Small World After All? I also remember 70,000 people looking up Diana Ross' dress as she ascended from a swing into the heavens on a helicopter.
This year it's Beyonce. She's had a huge year working the inaugural ball and hanging out with the President. Her stock is sky high and I do believe it will be an excellent show (though sexy, I'm sure) with Beyonce. However, at some point in the distant future, they should consider bringing back the rock bands. I miss 'em. Rock bands go with football like chicken wings, beer, and giant foam fingers.
My prediction: 49ers-35 Ravens-24