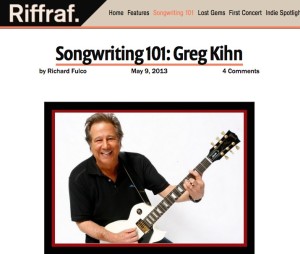 You know the songs. "Jeopardy." "The Breakup Song." Uh-Uh-Uh-Uh-Uh-Uh-Uh-Uh. You know Weird Al Yankovic's parody, "I Lost on Jeopardy." You know the groundbreaking video of "Jeopardy" that was an MTV favorite. You know Greg Kihn.
Riffraf had the opportunity to chat with Mr. Kihn about his experience with the legendary Beserkley Records, nearly fifty years of songwriting and his latest novel, Rubber Soul, in which an assassination attempt is made on The Beatles after they snub the Marcos family during their 1966 world tour.
---
What was the first piece of music you heard that made you want to write songs of your own?
"Tom Dooley" by the Kingston Trio. My cousin had the record and he owned a cheap banjo. A month later, I found a guitar with a cracked neck in the alley behind our house, fixed it and was able to play the melody line of "Tom Dooley." We picked together. The album that really changed my life and convinced me I could write songs was Freewheelin' by Bob Dylan.
You've been writing songs for nearly fifty years. What was the first song you wrote that you were proud of?
The first song I wrote and was proud of was "Any Other Woman" off my very first album in 1976. After that I seemed to find my groove. Back in those days I wrote a song a day. I was obsessed with writing.