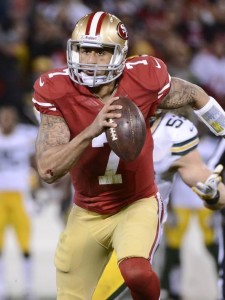 Do you realize that San Francisco could be the city of champions? The Giants won the World Series. The 49ers are on their way to the Super Bowl. The possibility of a double championship is real my friend. The 49ers really look like the team of destiny this year, and Colin Kaepernick turned out to be the answer to their offense. You always hear it being said, "You win with defense." I've just got a premonition about it. It's really rare when a city wins it all in both baseball and football, not to mention hockey or basketball. I still have deep-seeded anxiety about the year 1969. I was young and living in Baltimore, a diehard Colts fan (Johnny Unitas was God), and a fanatical Orioles fan (third baseman Brooks Robinson, also God, was painted by Norman Rockwell). That year, 1969, the New York Jets beat the heavily favored Baltimore Colts in Super Bowl III (Joe Namath predicted it,) the New York Mets (the Miracle Mets they were called) swept the heavily favored Baltimore Orioles in the World Series, and The New York Nicks won the NBA championship. Any guesses on who they beat? Of course, it was The Baltimore Bullets (as the team was known in those days). Stinging from those defeats, I've never been a fan of any New York Team. Most Baltimoreans still jump when you mention the year 1969.
But San Francisco now has the rare opportunity to boast double championships- the World Series AND the Super Bowl. Wow! The last time that happened was in Boston in 2004 when the Patriots and the Red Sox both won, Pittsburgh in 1979 with the Steelers and the Pirates. Before that you have to go back to 1935 to find the next one. So we have a real chance to make history here.
The Bay Area has been blessed with great teams over the years- The Raiders in their glory days, The Oakland A's in the 70's, The 49ers in the 80's, and the Giants inspirational world series wins in the last 3 years.
This is it! Double championships! Can it be done? My answer is yes! Defense wins championships and the 49ers have that kind of defense. Colin Kaepernick is the wild card. You never know when he's going to take off and it keeps the defense honest. So, let's review shall we? Great 49ers defense plus explosive and unpredictable offense equals Super Bowl Trophy.
Go 49ers!