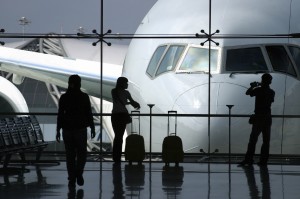 It's Saturday 6:00pm, time for us to leave for the airport (again) and the phone just rang. It was our stage manager the Sheik AKA Chris Saud, calling to say our flight has been CANCELLED! The estimated new time of departure is tomorrow morning at 8:35am.
I hope it doesn't get delayed any further or this gig will be a real ball buster!
I'll keep you updated.
If the 8:35am flight it cancelled we still can catch the 9:15am flight but after that… The gig will have slipped away. I'd like to point out the fact that the only other time the GKB has missed a gig in 35 years is when I was in the hospital with Diverticulitis a few years ago. Even then I tried to sneak out and they caught me and put me back in bed.
My thoughts are with those Asiana passengers. Imagine how terrifying it would be to be in a burning plane with smoke filling up the cabin.
OK, that's out status now. Any changes and I'll let you know.
Wish us luck!
SUNDAY 5:15am:
The alarm went off a few minutes ago and I am off to SFO airport. Our 8:35am flight is still good to go amd we all have our fingers crossed. It's getting late.
AIRPORT 7:00am:
Looks like we will finally get out of here.
The flight was delayed again and it's getting to be a real nail biter getting to the gig on time.
AIRPORT 8:45am:
We just got the boarding call. It lookes like we're going to make it.
I slept on the plane and we landed in Minneapolis. Then we caught a shuttle bus to the venue and went directly to the soundcheck. It was 98 degrees and humid. Did a one-song emergency soundhceck and headed back to the hotel for a few minutes. Wolfed down a sandwich and headed back to the gig. Somehow with all the adversity, we actually walked out on the stage right on time! We played a 90 minute set and it took the starch right out of me. I sweated profusely, in fact I sweated my clothes through and by the end of the set we were all dripping, but happy.
The show went surprisingly well and we had a great crowd.
I was so pooped I went back to the and fell asleep immediately. The 6:00am wakeup call was brutal and I remember thinking this can't be right.
We met in the lobby at 6:20 for the 90 minute drive back to the airport.
When we got to the airport we discovered that our flight had been delayed twice! When does it all end?
I am sitting in the departure lounge waiting to board right now. Keep your fingers crossed that we get out of here sometime this year! We keep checking the departures board and so far so good.
If I don't get home today I will blog again with a staus report.