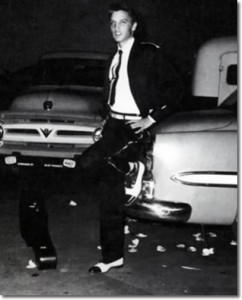 On this date in 1954 Elvis Presley played his first gig in public- on a flatbed truck for a drug store opening in Memphis. Some people think this might have been the birth of rock and roll.
There's something about I've done the flatbed gig many times, with mixed results.
The Greg Kihn Band played at a 49ers game and a Raiders game on trucks.  They're handy because they can roll you out for a short set, then roll you right off and resume the game.
Once, playing at an Oakland A's game, we were set up on a flatbed truck, which was supposed to roll out on center field after the game for a concert.  The fans came down on the field and it looked like a really cool idea on paper.  The problem was that once the stage was loaded with equipment, it wouldn't fit through the space required.  We waited for over an hour until they literally lifted the truck on forklifts and moved it sideways to fit through the opening onto the field.  We had another gig later that night in Santa Cruz and we couldn't stay.  The fans got a 3 song set that night and I felt bad, but it was out of our control.