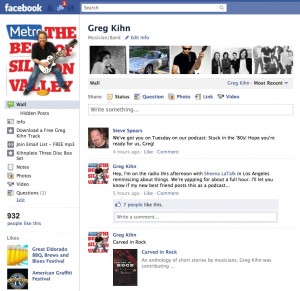 Head over to the official Greg Kihn Facebook page and click the LIKE button. Once you click like you will be able to download the track "Little Red Book" from the new release Kihnplete. "Little Red Book" features Joe Satriani on lead guitar. Before breaking big with his own solo career, Joe Satriani was the Greg Kihn Band's lead guitarist during the Post Beserkley Records era 1985 to 1987.  Fans of Satch, as he's affectionately referred to, will find eleven incredibly rare, hard-to-find studio and live tracks featuring the guitar prodigy.
"Having Joe in my band was a completely unique experience.  I knew three chords and he knew three thousand.  Every night I'd watch him play, and I had the best seat in the house to observe true guitar genius.  I've had some great ones, but Joe was in a class by himself." – Greg Kihn, California, 4/4/11
Available now Greg Kihn's Brand New Novel "Painted Black" about guitarist Brian Jones co-founder of The Rolling Stones!

Click here for more info.