Let us give credit where credit is due- 
This CD is special.  It's my legacy and it means a lot to me.  I got a hell of a team behind me, making it all possible.  Thank you all!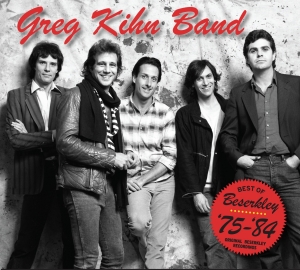 The new CD is out and it looks great, the reviews are excellent, the band rehearsals are in full swing, the reunion gig is all set at the Catalyst for May 19, and the Kihncert is looming on the horizon at the shoreline July 14th.  The KFOX radio show is doing very well.  Things are flowing right along.  Catfish are jumpin' and the cotton is high.  Life is pretty damn good!
So, at this point I would like to take a time out and thank the people who made all these wonderful things happen.  There's a team of dedicated professionals who do all the heavy lifting and I would like to thank them right now.
First of all, the CD package looks great, doesn't it?  Let's hear it for Skyler Turtle @ Riot Media, who did all the hard work bringing the various elements together- the photos, the booklet, and the general design of the CD, and helped coordinating the production and musical side of this project as well.  In fact, there's not one phase of this project that he wasn't involved in (except the original recordings that we made back before he was born, of course.)  Skyler did a fabulous job!
Skyler Turtle
Lisa Berman Design did the album art layout / design and nailed it.  Art direction on a project like this is hard, we want it to look good and at the same time be informative.  Thanks Lisa! Great job!
Lisa Berman
Tom Size did a masterful job remastering the original analog master recordings into nice fresh clear new digital versions that sound like they were recorded last week and not over a hundred years ago using crude steam-driven technology.  OK, that last part was made up- not Tom Size, the steam part.  Tom- you kicked ass.  The songs sound magnificent.
Tom Size
Legendary San Francisco photographer Pat Johnson has chronicled my career from the beginning and his incredible archive of pictures made this project really come alive.  Pat is the man.  He's been making me look good for over 25 years, and that ain't easy!  Pat is like family.  Thanks, man.
Pat Johnson
How did you hear about all this?  Probably from Chris Buttner or Michael Brandvold, two tireless maniacs who know how to create a media buzz you can warm your hands over on a cold night in the woods.  Chris and Michael are total pros and have manipulated the media as if they were hypnotizing chickens or other barnyard animals.  They went out there and beat the bushes and created a huge amount of momentum.  So Chris and Michael- thanks for making people think I know what I'm doing.  So far it's working.  I'm joking- you guys kick ass.
Chris Buttner
Michael Brandvold
http://www.michaelbrandvold.com/
Most of all I'd like to thank my long time manager and business partner Joel Turtle.  Joel was one of the original partners in Beserkley Records and he's been with me from day one.  It was his idea to put this CD out.  He worked hard to get the rights to all the material back- believe me it wasn't easy- but Joel hung in there and got it done.  Joel, thank you.  You are not only a brilliant business strategist, but a great best friend.  You deserve the lion share of thanks because it was through your determination that this project, these gigs, and this excellent career that I have- move forward.
Joel Turtle
This CD is special.  It's my legacy and it means a lot to me.  I got a hell of a team behind me, making it all possible.  Thank you all!