Many people came up to me at this year's KIHNCERT and told me they thought the sound this year was the best it has ever been.  I agree.  It sounded great on stage and out in the house.  The Shoreline has upgraded their sound system and the video capabilities, and they have greatly improved the technical aspect of the show.  So, the short answer is  yes, but there's  much more to it than that.  First of all, our sound man Big Ed Moore does a fabulous job mixing at that venue, and he always sounds good, but this year he was even better.  He's got a great ear, and he knows how to coax the best sound out of the equipment.  Ed's got soul, that's why we hire him for all our big venue gigs.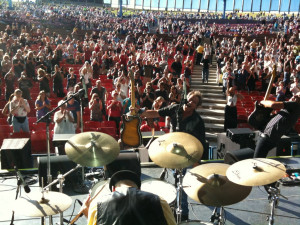 I was blown out to see my old friend Louis B mixing the on-stage monitors.  This guy goes all the way back to the Keystone days of Beserkley Records.  He worked for the Rubinoos, Earthquake, and the Greg Kihn Band in the clubs days of our youth, before any of us had any hits.  I hadn't seen him in years.  He did the best monitor mix we've had in 10 years.  I'm not kidding.  It was fabulous.  I could actually hear everything!  I can't tell you how important that it is when you're singing.  If you can't hear what you're doing, you over sing, or scream, or blow your voice out in any one of a number of ways.  Anyway, the band could hear what they were doing as a result, they played better.  Must be karma.
The Greg Kihn band's on-stage manager Chris Saud (nicknamed "The Sheik") has been with me for decades and knows our guitar rigs inside out.
I was using my trusty old vintage Fender Telecaster through my trusty old vintage Marshall Stack- a standard rig for large rock concerts- but that old Tele just comes alive at gigs.  The more you push it, the better it sounds.  In the 30 plus years I've owned that guitar, it has never let me down once.  God bless the Tele, and it was extra ringy-dingy that night.  Through rain, and snow, and gloom of night, it's nice to know The Sheik is always on the job!
My son Ry was scorching, as always, but on this particular night he seemed even more inspired.  We had rehearsed the set and the confidence level was high, everybody knew their part.  We had timed it and knew exactly how long we had to play.  In the end we came in one minute short!  (Probably due to adrenalin!)  We went from song to song briskly and without interruptions, except for the beginning of Remember, when I have to change guitars, so I planned to say a few words at that point.  A very few words, because as soon as I had that acoustic 12 string strapped on and plugged in, drummer Dave Danza was already counting off the next tune.
The band played a very tight set.  Dave Medd, Robert Berry, Ry, and Dave Danza all were cookin' with gas.   It was like driving a Corvette.
A word here about the 12-string acoustic guitar I used at the KIHNCERT- because everybody was asking me what it was.  It sounded incredible on "Remember."  That guitar is made by my friends at Boulder Creek Guitars down in Morgan Hill and it sounded incredible through the big sound system at Shoreline.  I discovered how good my original Boulder Creek 12-string Solitaire sounded through the PA several years ago when I was trying different guitars through the speakers there during a sound check.  I had seen other guitarists struggle with vintage Gibsons and Martins and I knew it could be a tricky stage.  The design of the BC guitar is such that it really maximizes the sound system.  The thing has no sound hole!  At least, not on the front.  There is a small oval one on top, but you hardly notice it.  The front of the guitar is clean and smooth, with no breaks in the wood, and it looks cool while it serves a purpose.  It has a solid cedar top with mahogany sides and back and uses their evolutionary "suspended bracing system" that really makes the top vibrate like crazy!  It makes the guitar sing.  With their electronics, the Boulder Creek 12-string Solitaire series sounds superior through the Shoreline sound system.  Take it from a guy who knows.  I've used all kinds of acoustic guitars at that venue.  So, if you playing the Shoreline, or even if you're not, check out the Solitaire Series at Boulder Creek Guitars, you won't be disappointed.  And yes, in full disclosure, they gave me that beautiful 12-string guitar I used for the KIHNCERT for "promotional considerations"- but really, actually I would have paid full price.  That's how good it sounded .
Here's the link- http://www.bouldercreekguitars.com/
The backstage scene at the KIHNCERT this year was exciting.  KOFX was broadcasting live from one end of the hospitality area, and rock stars were taking pictures with fans on  the other.  In addition to the guys in Kansas, Yes, and Styx, I also ran into my old friend Ronnie Montrose backstage.