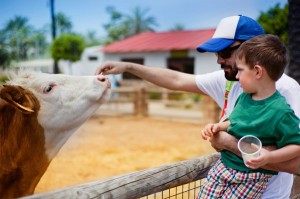 As I have stated here before, I LOVE being a Grandpa. Some guys have a problem getting older and actually lie about it but I am the opposite. I love my grandsons and I don't care who knows. When I ran into Sammy Hagar at the BR Cohn Fall Music Festival last year, I bragged that I was a new Grandpa and he laughed. "Hey, man, my newest kids are YOUNGER than my grandkids. I had to think about that for a minute. Then I looked at him with great admiration. "You mean… Oh!" I congratulated him and his plumbing and moved on.
Yesterday I took the brothers (that's what I call Nate and Zuri) to the petting zoo at Tilden Park and they had a ball. Nate took a big bag of limp old celery that had been in the fridge for days. He told me that he "wasn't afraid" of the cows anymore and they loved celery. Those cows were HUGE! But Nate walked right up to them and held the celery out and they ate it right out of his hand.
Ry came along and we had lunch together. There's nothing I like better than sitting at a table with three generations of Kihns!
We've been working on Nate's baesball skills and that kid is a natural athelete! He hits off a T and I think he'll be ready for T Ball next year. He's got a nice easy swing and he hits that ball right on the money every time. I'm hoping Nate and his brother will become multi-millionaire atheletes and support their parents and buy their Grandpa a new house.
Have a great weekend! Hug your kids! Call your mother, she misses you.