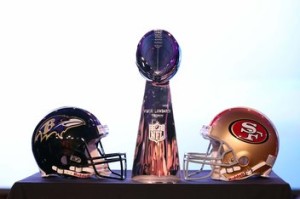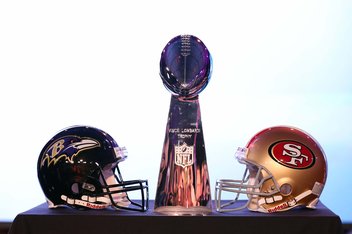 Well, the critics were right- a Harbaugh won the Super Bowl; only it was John not Jim. The Baltimore Ravens are the NFL Champions and they deserve it. They beat the San Francisco 49ers 34 to 31. Flacco played a hell of a game. My sister in Baltimore and all my old friends are celebrating right now. In the meantime the 49ers almost pulled off what would have been the greatest Super Bowl comeback of all time. It would have been one for the ages. But alas, it was not to be. Here are my observations.
First of all it was one of the strangest Super Bowls I've ever seen. It had everything including a power outage.
Jennifer Hudson singing America The Beautiful with the kids from Sandy Hook was spectacular. It gave me goose bumps. What a voice she has! I didn't care for Alicia Keys version of the National Anthem but that's a matter of taste. Most people thought it was great. I though it dragged a little. As you know my two rules for singing the Anthem are start low and sing fast. She broke both but then again she's a superstar and can pretty much do what she wants.
The first half was all Ravens and I felt terrible as the halftime show started. I thought we were out of it. It was 21 to 6. I felt queasy. I wondered what Jim Harbaugh was saying in the locker room.
The halftime show seemed incredibly shallow to me this year. Beyonce is drop-dead beautiful and has a great voice. She's sexy and can dance up a storm, but for some reason it left me cold. That whole genre of music where you have a dozen dancers doing the same dance steps in lockstep while the singer does her routine seems more like Broadway show or a Vegas review than a concert. I know a lot of people love that sort of thing but it doesn't do much for me. The songs are instantly forgettable and it all seems very contrived. Of course, everybody else I talked to loved it, so what do I know? I'd rather see ZZ Top or Tom Petty or the Stones. I say bring back live rock and roll next year.
Then the second half started and the Ravens ran the opening kickoff for a touchdown and suddenly it was 28 to 6. Then things got really weird. The power went out! The stadium went half dark and there was a 30-minute delay while they fixed the lights. Bizarre! When the lights went back on the 49ers came alive and scored an unbelievable comeback, pulling to within 3 points. We had our chances (first an goal and we couldn't score) but the Ravens made the plays when it mattered. They are the World Champs.
Congratulations Baltimore. You guys played a hell of a game. But we'll be back. Wait until next year.