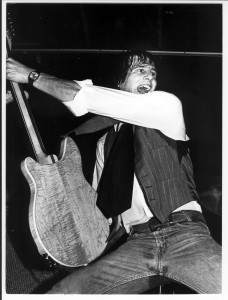 Today the Greg Kihn Band rehearses.  I am going to try and whip up some of our older songs that we haven't done in years like "For You" and "Happy man" and "Testify."  Our first gig this year is in San Jose at "Music in the Park."  It's a free gig, right in downtown San Jose at Cesar de Chavez Park on Market Street.  I hope to see you there.
Yesterday I got to see my grandson Nate and we hung out.  I brought the guitar and we played some tunes like his favorite "Old MacDonald" and "Boom Boom."
It was hard to watch the Sharks lose in the last 15 seconds last night.  They are eliminated from Stanley Cup Kihntention.  Wait until next year…
Available now Greg Kihn's Brand New Novel "Painted Black" about guitarist Brian Jones co-founder of The Rolling Stones!

Click here for more info.