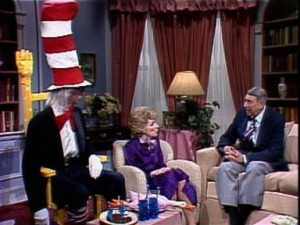 I am trying to locate the complete Saturday Night Live show the Greg Kihn Band was on. It was originally broadcast 13 April 1985. It's Season 10- episode 18 with Howard Cosell as guest host. We're coming up on the anniversary soon, and I was thinking about that night- live in front of millions of people. They have a rule on SNL that you have to use the same people who were on the record. So we had legendary saxophonist Steve Douglas, who played on all the Phil Spector hits, play the sax solo on LUCKY. Steve is gone now, but he's a true hall of famer. We also did THE BOYS WON'T LEAVE THE GIRLS ALONE with Pete Escovido.
I had such a great time in New York that week, and Howard Cosell was so cool to hang out with. We got along fabulously. His dressing room was directly across the hall from ours. For some reason, nobody hung with Howard, except me. We did shots of Old Grandad and he told me about Dandy Don and Frank Gifford and the night John Lennon got shot. He was never out of character. He had the most unmistakable voice of in all of sports. He told me about the great Mohamed Ali fights- the "Thrilla in Manila" and the "Rumble In The Jungle." I miss Howard. I have great memories of that show. Anyway, I've been trying to locate that show but for some reason it's out of print and unavailable. To get it on YouTube you have to jump through too many hoops and sign up for stuff you don't want. I started to, but stopped when I felt it got too invasive. Does anybody out there have a copy of that show? I haven't seen it in 20 years.
Available now Greg Kihn's Brand New Novel "Painted Black" about guitarist Brian Jones co-founder of The Rolling Stones!

Click here for more info.