Last night I did something amazing!  I actually downloaded The Greg Kihn Band's "Best of Beserkley" CD on iTunes!  11.99 for 21 hard to find songs and a booklet full of Pat Johnson photographs.  Not a bad deal, eh?  In the interest of full disclosure you should be aware that I did this myself and used my own money so I will be making a profit from these recordings (at long last!)  Of course, I won't make millions but I'm not doing it for the money.  I want these recordings to be available to the public.  Call it legacy building if you want.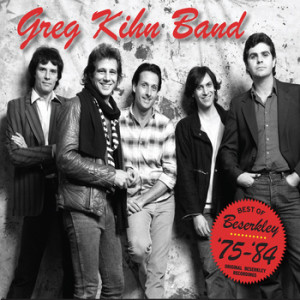 This is just the beginning.  Since I went through years of trying to get my stuff back from the record company, I feel justified putting it all out this year.  That means all the albums!  Many have not been available for decades!  Most have never been available in digital format.  I hand picked all the songs myself and chose the photos.  I want my grandson to know what his grandpa did all those years ago.  I'm still proud of it.  I always will be.  It was a great era.
So, if you've been looking for hard to find GKB material- it's here!  We also have actual CD's too!  Buy all you want at GREGKIHN.COM, we'll make more!