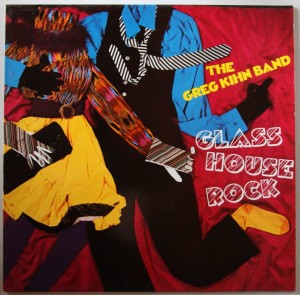 The next release in the great GREG KIHN BESERKLEY CATALOGUE RE-RELEASE snuck out over the Holidays- GLASS HOUSE ROCK, one of my favorite albums- fossilized remains of which have been found in Ancient Peruvian tombs from the 12th century.  It was a breakthrough album for the young GREG KIHN BAND, full of piss and vinegar, we were on our way to carving our own niche in rock and roll history.  Armed with our fierce Beserkley independence, we were absolutely fearless, we even did a version of "THE MAN WHO SHOT LIBERTY VALANCE."  Last time we spoke I mentioned that "LIBERY VALANCE" was only the first of two Burt Bachrach songs we did over the years.  Can you name the other?  Yes, it was "LITTLE RED BOOK."  I first heard that song on the first Love album on Elektra, but original version was recorded by Manfred Mann for the soundtrack of "WHAT'S NEW PUSSYCAT?"  We recorded "LITTLE RED BOOK" first with JOE SATRIANI on the "LOVE AND ROCK & ROLL" album, then again with my son RY KIHN on lead guitar for the Sony EXTENDED VERSIONS GREG KIHN BAND LIVE CD.  I believe there is a live version with JOE SATRIANI on the KIHNPLETE CD as well.  Enjoy "GLASS HOUSE ROCK" it's great to have it available again after all these years.
Buy Greg Kihn Band Glass House Rock on iTunes
Available now Greg Kihn's Brand New Novel "Painted Black" about guitarist Brian Jones co-founder of The Rolling Stones!

Click here for more info.